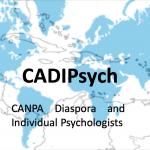 CADIPsych is a special member category of CANPA (The Caribbean Alliance of National Psychological Associations)
CADIPsych members are psychologists with connections and interests in the Caribbean. CADIPSych supports CANPA's goals of promoting psychological science and culturally responsive practice in the Caribbean and with Caribbean clientele.
---
If you are:
connected to the Caribbean by way of migration, descent,
reside in Caribbean countries in which there is not a CANPA Member Association
are resident abroad in the Caribbean Diaspora, or
work with Caribbean clientele
You are invited to join CADIPsych – CANPA Diaspora and Individual Psychologists. Don't miss this unique and exciting opportunity to contribute to the movement to build a psychology that speaks to the needs Caribbean populations at home and abroad!