About CANPA
CANPA is the Caribbean Alliance of National Psychological Associations. Launched in 2013, it is organized to advance psychological knowledge, research, skills and practice in the service of Caribbean well-being and development, while addressing the professional interests of psychological practitioners, academics and researchers.
CANPA works with the Caribbean psychology community to develop a psychology discipline that is relevant to issues and realities in the Caribbean, and to support development of the discipline thoughout all the region. CANPA sponsors regular regional conferences of psychology in the Caribbean.
Its Standing Committees support the regional development of psychology education and training, growth and development of national organizations of psychology, development and strengthening of standards for professional psychology, communication and promotion of scholarship, and the promotion of robust mechanisms for disaster response and psychosocial support.
CANPA members are:
National Associations of Psychology in Caribbean countries/territories
A Grouping of individual psychologists in a Caribbean country/territory where there is no national association of psychology and psychologists in the Caribbean diaspora
CANPA Affiliates (nonvoting) are:
Other associations of psychology within the Caribbean region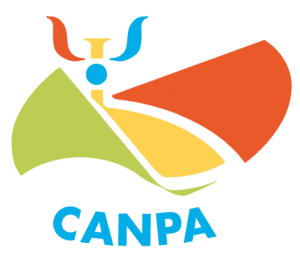 The overall shape of the logo represents the human brain and varied landscape of the Caribbean, stretching from the northwest to the southeast. The bright colours symbolize the fusion of the Caribbean's rich cultures and heritages. The symbol of Psychology arising in the midst of the Caribbean with its centre in the heart of the Caribbean Sea reflects the substantial role that psychology will play in the development of the region. Finally, the parallel lines signify equality between the various islands and the flowing shapes depict the historical and contemporary movement of people, activity, collaboration and integration.