ABOUT ST. CROIX, UNITED STATES VIRGIN ISLANDS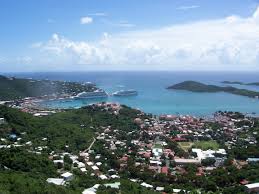 It is recorded that St. Croix was inhabited by various indigenous groups including the Carib and Arawak Indians during its prehistory and that  Christopher Columbus was the first European to set foot on Santa Cruz (Holy Cross), as he called it, in 1493.  Subsequently seven flags have flown over St. Croix  including that of the Spanish, Dutch, English, French, Knights of Malta, Denmark and the United States. Denmark sold the Virgin Islands (Danish West Indies) to the United States of America in 1917 for $25 million.  The residents of St. Croix, St. Thomas, St. John ad Water Island are U.S. citizens.
St. Croix was once the sugar producing king of the Caribbean. Today visitors will find about 150 sugar mill ruins scattered across the island including one at the Estate Whim Plantation Museum, a restored and preserved sugar plantation.
Visitors to St. Croix on  business or vacation will discover that St. Croix is  well-known for wonderful dive opportunities. Additional water sports on St. Croix iinclude snorkeling, kayaking, fishing and boating. On land, visitors can golf, zipline, take walking tours in the towns or island tours by safari bus, shop, and enjoy delicious Crucian culinary delights.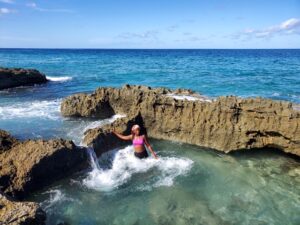 St. Croix has three U.S. National Parks: Salt River which protects a diverse ecosystem in addition to pre-historic ruins; Buck Island with stunning marine gardens; and five historic structures in Christiansted give visitors a look into the one-time Danish colonial way of life. Additional parks and preserves include Jack and Isaac Bays and Sandy Point notable for its beauty and for its protected sea turtles.
Christiansted, the capital of the Danish West Indies from 1755 to 1871, is one of two main towns on St. Croix. The one square mile town of Christiansted offers a unique opportunity to visit a historically important town and enjoyshopping and dining in modern settings. Christiansted has maintained its Danish architectural richness and offers many buildings and structures of interest, like cobblestone walkways, old churches, imposing Fort Christiansvaen, and Government House. The Christiansted historical area encompasses about 27 acres and includes what used to be a busy Danish business and trading centre. It was once the area used to dock ships carrying human cargo, rum and molasses bound for the triangular trade route through the Caribbean to Europe and Africa.
Frederiksted, St. Croix's picturesque waterfront town on the west end was established in 1751. It is built in a Victorian style, the style chosen after the original buildings were destroyed in a fire in 1758. Centuries ago, Federiksted competed with Christiansted as a port of trade; Today, Frederiksted has the deep-water port which welcomes cruise ships to the island.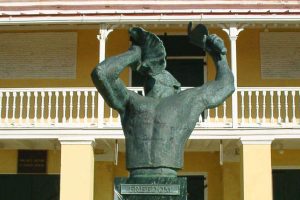 Frederiksted is often referred to as "Freedom City" by locals. This name has to do with the fact that the town was the site of the emancipation of slaves in the then-Danish West Indies.
Peter von Scholten, a Dane, who became Governor-General in 1827, was an advocate who favored gradual abolition of slavery. In 1847, it was decided that slavery was to be abolished completely after 12 years. In the meantime, the children born to enslaved parents were born free. However, many of the still enslaved regarded Von Scholten's action as too little and too late. In July 1848, a slave rebellion started on St. Croix. Big crowds of enslaved laborers from the town and the plantations took complete control of the small town of Frederiksted. The situation was critical and Von Scholten saw no alternative to prevent a devastating rebellion. On July 3, 1848, he drove to Frederiksted, spoke to the freedom-fighters and immediately abolished slavery in the Danish possessions in the West Indies.  July 3rd is celebrated annually in the U.S. Virgin Islands as a territorial holiday.
After the abolition of slavery, conditions in the Danish colony remained difficult. Frustration and unrest were evident.  In 1878, a violent rebellion took place in which houses, sugar mills, sugar fields, and over half the city of Frederiksted burned down. Three women, Mary, Agnes, and Mathilda, were especially active in the rebellion. Today, they are considered heroines in the islands and referred to as "Queens."   One of the leading men among the rebels was the enslaved laborer John Gottlieb, called General Buddhoe. A statue of Buddhoe blowing a conch shell was erected in Frederiksted in his honor.
MORE ABOUT THE USVI
The population of the USVI is estimated at over 105,000 The racial/ethnic distribution includes Black/African American, White and Asian.  English, Spanish and Haitian Kryole are the main languages spoken in the homes.  Residents throughout the U.S. Territory have familial, historical and cultural ties globally but primarily in the Caribbean.